ApiNZ Conference's full programme offers two days of presentations and workshops on issues of interest to all beekeepers and others involved in the apiculture industry.
Entry to the Trade Exhibition is only open to Conference attendees.
Attendance packages are available for one day only (either Thursday or Friday) or the full Conference.  Your registration cost covers morning tea, lunch and afternoon but not dinners.  You can choose to purchase tickets to the Conference social events during registration.  These events are:
Ecrotek Roast Buffet Dinner – Wednesday 29 June, to be held at Te Pae (Conway Rooms) $40 +GST per person

100% Pure New Zealand Conference Gala Dinner and Awards – Friday 1 July, to be held at Te Pae (Waitaki Room) $105 +GST per person. Special deal: Book a table of 10 and only pay for 9 people.
The 2022 Apiculture NZ AGM will be held on Friday 1 July.  Attendance at this event is included in the registration cost.
Delegates can register here:
Sponsors or exhibitors please contact Jude Earles for your registration link: jude@corporatevenues.co.nz  021 165 0355
To register a group, child or student, or for any registration queries, contact: britta@eventdynamics.co.nz
EARLY BIRD SPECIAL:  The first 100 ApiNZ members to register for the full two-day event will receive a further 10% off the already discounted registration price.
PRICING
| PRICE | ApiNZ member | Non-member | Student |
| --- | --- | --- | --- |
| One day | $160 | $220 | $160 |
| Two day | $300 | $408 | $300 |
All prices are GST inclusive.
CANCELLATION POLICY:
If a delegate's cancellation is received more than 30 days prior to the conference, the registration, less 25% administration fee, will be refunded. If the delegate's cancellation is received within 30 days prior to the conference, no refund will be given, but you may substitute the delegates name with another.
A full cancellation charge may apply if accommodation is cancelled within 30 days prior to conference.
Read here to see how all, or most, of the registration costs will be refunded if Covid-19 settings change from orange to red. COVID-19 Cancellation policy: Click here
COVID-19:
Under current NZ Government guidelines, no vaccination status is required. Apiculture NZ will follow any guidelines that are in place at the time of this event.
If you register for the Apiculture NZ Conference 2022, you also agree to adhere to our safety measures in place to mitigate the risk of spreading Covid-19. These measures are based on NZ Government guidance around physical distancing, good hygiene practices and contact tracing.
If you are unwell, have any COVID-19 symptoms, or are awaiting a COVID-19 test result please do not attend this event. Please contact britta@eventdynamics.co.nz to arrange transfer, substitution or refund of your registration.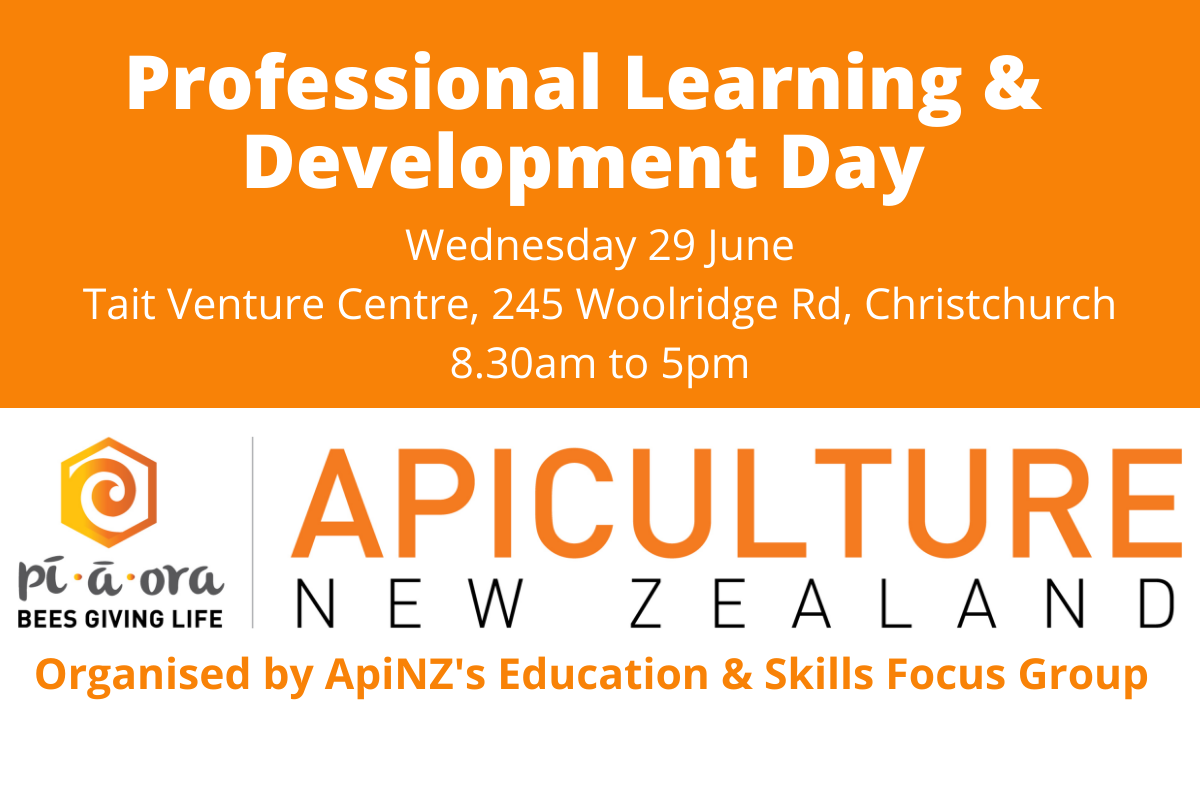 The Professional Learning & Development Day is organised by Apiculture NZ's Education & Skills Focus Group.  It is an opportunity to upskill your team at one location on one day, before joining the Apiculture NZ National Conference (Thursday 30 June to Friday 1 July).  The courses are relevant to industry skill requirements and run by professional agencies.
Courses available include:
Quality Management System (QMS) – AsureQuality
Food Safety in Honey – RMP Awareness – Asure Quality
Profitable Training solutions for your business – Primary ITO
The cost is $200 + GST per business.  Your team can attend as many courses as you need. This cost includes refreshments and a working lunch.
Please note that AsureQuality courses carry additional costs.
Register your interest now with Conference@apinz.org.nz
If you would like to know more about the Day and individual courses please contact: Stuart Fraser, Chair ApiNZ Education & Skills Focus Group educationandskills@apinz.org.nz

The 3rd annual New Zealand Honey Bee Research Symposium will be held on 29 June 2022 at the Te Pae Christchurch Convention Centre, the day before Apiculture NZ's Conference.
The research symposium is an event for scientists to present and learn more about the honey bee research landscape in New Zealand, with the aim of facilitating ideas and encouraging collaborations.  The event is open to anyone interested in honey bee research.  Registrations for the day include lunch and morning and afternoon tea.  There is a $45 cost for those wishing to attend in person.  The deadline for presentation submissions is 5pm, 1 June 2022.  Registrations will also close on this date.
To register please go here.
For more information please contact Ashley Mortensen at Ashley.Mortensen@plantandfood.co.nz or Phil Lester at Phil.Lester@vuw.ac.nz