At the ApiNZ conference in July, ApiNZ member and trained chef Maureen Conquer gave a demonstration on Cooking with Honey, making attendees' mouths water with both savoury and sweet recipes. Here's a photo of Maureen in action at the workshop.
Throughout Bee Aware Month, we will be sharing her stunning recipes here. We also welcome you to share your favourite recipes using honey, bee products and/or pollinated foods, tagging us on Facebook and using the hashtag #beewarenz17!
This first recipe is a preview that fits in perfectly with this year's BAM theme Pollination Illumination because it features…pollen! Not only that, it features carrots, grapefruit and fennel, which are all crops pollinated by the honey bee.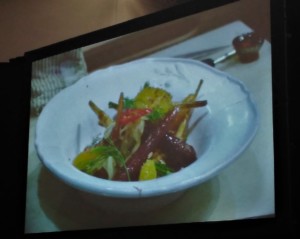 Honey Glazed Carrots with Fennel and Dusting of Pollen
a bunch of baby carrots
½ bulb fresh fennel, reserve fennel greens
a splash of olive oil
30g butter
2 garlic cloves sliced
juice of ½ grapefruit
a few segments of grapefruit (optional)
½ tsp grapefruit zest
½ tsp whole fennel seeds
¼ tsp pollen (fennel pollen if you can get it)
1-2 tablespoons honey (fennel or honey dew)
salt & pepper to season
Blanch the carrots and finely slice the fennel bulb on a mandolin if you have one.
In a pan put the olive oil, butter and carrots over a medium heat. Cook, turning frequently until starting to colour and then add garlic and fennel. Cook until softening, add honey and grapefruit juice and turn frequently until reduced and syrupy.
Check seasoning.
Pile onto a warm serving dish, top with trimmed fennel fronds, sprinkle on some fennel seeds and finally dust with pollen.