Cyclone Gabrielle updates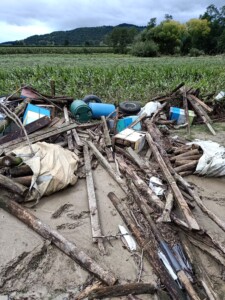 Hives hit by Cyclone Gabrielle, Gisborne.
Photo: Yasuo Nozue.
Cyclone Gabrielle bee health and biosecurity grants
Friday 31 March
Apiculture New Zealand has secured government funding for beekeepers to address biosecurity and bee health risks for hives located in areas that were affected by Cyclone Gabrielle.
The total funding allocation is $250,000 and the Ministry for Primary Industries has appointed Apiculture New Zealand to distribute the funding to affected beekeepers.  We thank the Ministry for Primary Industries for their support in making this grant available.
Who is eligible for the grant?
To be eligible for this funding, your principal income must be from a beekeeping business, and you must have had a minimum of 30 hives affected in areas where a State of Emergency was declared.
The areas that are eligible are those covered by the National State of Emergency declared on 14 February 2023 – the Northland, Auckland, Waikato, Bay of Plenty, Tairawhiti, Hawke's Bay regions and the Tararua district.
How to apply for the grant
Complete a short application form, describing the damage and the work being undertaken.
Email your completed form to funding@apinz.org.nz. You can also scan or take photos of the completed application form.
Keep copies of records, such as invoices, receipts, and quotes.
What the grant can be used for
The grant can only be used for costs such as fuel, equipment hire and additional wages needed to assist in the recovery and retrieval of damaged gear and hives.  These costs can include burning hives, cleaning apiary sites and clearing tracks to apiary sites.
The grant cannot be used for replacing hives lost in the cyclone or for the cost of treatments for diseases such as varroa.
How to find out more
From ApiNZ CEO Karin Kos
Friday 24 February
Following on from the Chair's message last week, we continue to see and hear about the devastation from Cyclone Gabrielle which has wreaked havoc on families, communities, businesses and infrastructure.  We are also starting to get a picture of what's happened to beekeepers and packers in the most affected regions around Hawke's Bay and Tairāwhiti.
Our figures to date suggest thousands of hives will have been affected by the flooding. Our aim is to build a detailed picture of the impact on apiculture so that we can go to Government with our request for support based on good evidence. Again, our request to all those affected is please stay in touch with us via info@apinz.org.nz with details of the impact on your hives and business.
The key issues continue to be access to hives, clearing/cleaning damaged hive sites, bee welfare and financial support for loss (or projected loss) of income. We are in daily contact with government agencies to make sure those concerns are reaching them and relevant rescue and emergency groups. It has also been helpful to get officials from key agencies, like MPI, to meet with local beekeeping operations in affected areas. That way they get a first-hand account of the damage and the support needed.
There has been some excellent local, voluntary support that has seen a coordinated effort get underway, including in the Tairāwhiti area and in Hawke's Bay to provide practical support and advice. I would like to acknowledge Barry Foster, Chair of the ApiNZ Hub and his hub team including John MacKay and Steve Jackson for the tireless work they have been doing. If you have yet to be in contact with Barry and would like to touch base his email is bjfoster@xtra.co.nz.
In Hawke's Bay, CE of Melita Honey, Lars Janson has been in contact with many local beekeepers bringing agencies, support and resources together to provide practical support. Lars is happy for local beekeepers to make contact with him at lars@melitahoney.com.
Many of our members are asking how to support beekeepers in the affected areas and we have received some generous offers, including people to help clean up. If you have specific support you'd like to provide please email info@apinz.org.nz.