CONFERENCE ACCOMMODATION
The below hotels will be available to book during the registration process and special rates have been negotiated for the Conference.
The rate is for room only and does not include breakfast. All rates include GST.
If you wish to stay outside of 29th June and 1st July, please contact Britta, on 021 122 6870 or britta@eventdynamics.co.nz
Please note:
• If you cancel within 30 days of the conference your accommodation may not be refunded.
• Rates may increase without notice due to changes in government charges, taxes or levies.
Crowne Plaza
Standard King: $185.00 per night
A contemporary styled hotel, located 0.17km from the conference venue. Standard King rooms bring together sophisticated design and technology, complete with a modern bathroom.
Superior King or Superior Twin: $239.00 per night
A contemporary hotel in a prime central Christchurch location, 0.4 km from the conference venue.
Enjoy modern décor and ergonomic comfort. The Superior King has one king bed and the Superior Twin has two double beds.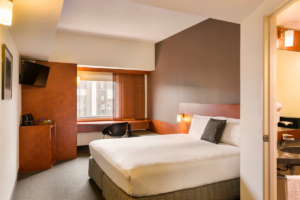 Standard King or Standard Twin: $169.00 per night
Centrally located in the heart of Christchurch, 0.5 km from the conference venue.
A comfortable guest room with a king bed.
Superior King: $199.00 per night
Superior Twin (2 Single Beds): $199.00 per night
Capturing the vibrant energy of the city centre, Fable is setting the new standard in luxury accommodation, 0.5 km from the conference venue.
Superior King or Twin rooms that are designed with your ultimate comfort and connectivity in mind.
Studio Apartment : $180.00 per night
1 Bedroom Apartment: $210.00 per night
Serviced apartment style hotel rooms that offer guests a relaxed and comfortable accommodation experience, 0.5 km from the conference venue.
Studios are the perfect alternative to a hotel room with a fully equipped kitchenette. The one bedroom apartments are ideal for families, colleagues or larger groups.
Studio King: $169.00 per night
A short stroll to the heart of the city and within close proximity to a number of Christchurch's iconic landmarks, 0.6 km from the conference venue.
The Studio King rooms provide a comfortable and relaxing environment and feature copious amounts of natural light.
Luxe Twin: $219.00 per night
Luxe King: $229.00 per night
This brand new 5-star boutique hotel is ideally located on Victoria Street and Hagley park, 0.7 km from the conference venue.
The Luxe King has been tastefully decorated and offers guests comfort and space.