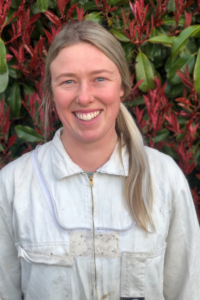 Charlotte Haskell, beekeeper apprentice, Central Otago
ApiNZ Apprenticeship in Apiculture 
How did you get started in beekeeping?
It was actually because of Covid.  I was working in HR with a merino company in Wanaka, and I was made redundant along with 15 others.  I was thinking about studying at a local beekeeping course.  Beekeeping was something that had always interested me because I liked how practical it was.  I looked into a course and ended up getting in touch with a few local companies to see if I could go out and just see what they do.  I got in touch with Pete from Alpine Honey and he was happy for me to go out in the trucks to get an idea of what they do.
I got along with the others in the team well.  We had similar interests and they gave me a really good description of what they do.  From there Pete suggested that I start out the season with them and do the apprenticeship rather than a course.
How have you found the apprenticeship?
It's been a really great way to learn on the job.  So I've done everything during a full season as well as some bookwork and online studies.  You're not just learning theories of everything.  It's very practical so everything you do is linked in to some form of practical learning and skills required to manage multiple hives.  I've really liked that.
How have you found the change from a corporate role to beekeeping?
I've really enjoyed being a bit more active in this job.  My HR role was very desk-based and computer-based.  I love being out in the environment.  I've always been an outdoors-focused person in my hobbies.  So I did a lot of mountain biking, hiking and skiing and previously I was ski instructing for some years.  I really do enjoy working in the outdoors.  It's worked out well because I can fit in some ski instructing during the quiet season for honey.  It goes hand in hand.  Occasionally we had a few really cold days last year, when we got to have a ski day as we couldn't open up the hives anyway.
What have been the challenging aspects of the role?
The late nights are always interesting when you're trying to get work done or hives moved before it gets too dark.  The physical side of the work I've actually enjoyed and found rewarding.  And I'm lucky to be working with quite supportive workmates when it comes to the lifting side of things, which can be tricky.
What's your advice for someone in your position looking, or being forced to look, at a career change?
I think the way I came into it was really helpful.  Getting in touch with a local company and getting a better understanding of the job as a whole – the dirty jobs and the lots of little jobs that have to be done – as opposed to the romantic ideal of being a beekeeper.
What are your future plans for beekeeping?
I'm just about finished my Level 3 apprenticeship so I'll move on Level 4 this season and look at queen raising this summer.