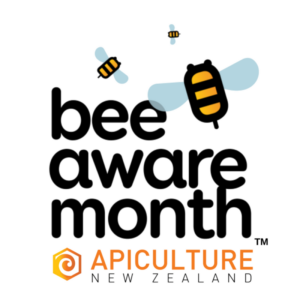 COMMUNITY AND EDUCATIONAL EVENTS
Thanks so much to everyone that participated in BEE AWARE MONTH 2022!
Here are some pictures of events that happened around the country to celebrate and inform kiwis about our bees.
If you have photos of an event you participated in we'd love to share it here, email: info@apinz.org.nz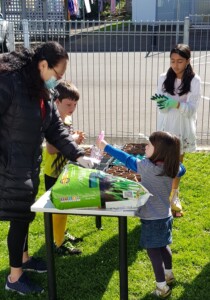 Phoebe from Wellington's Kaicycle ran a community workshop on germination and planting and Jane Harding from the Wellington Beekeepers Association gave a short talk on bees and pollination and participants were encouraged to share their experience of seed-saving and growing food. Photo: Jane Harding.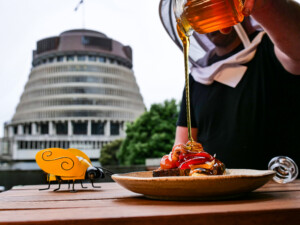 John Burnet of the Wellington Beekeepers Association gave a bee presentation at Huxley's restaurant while attendees enjoyed a three-course honey-infused brunch as part of Wellington on a Plate. Drinks were provided by Whistling Sisters who created a mead made with Bee Local pōhutukawa honey from trees around the Wellington Botanic Garden area.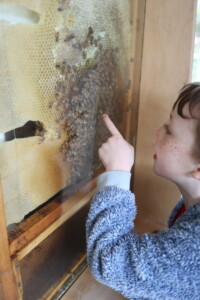 Harvey Allan checks out the new apiscope at the Wellington Botanic Garden's Learning Pavilion Open Day during Bee Aware Month.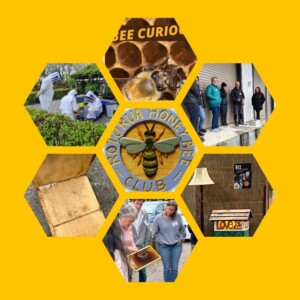 The Rotorua Honeybee Club were busy bees this Bee Aware Month.
Palmers Garden Centre in Rotorua was the first stop with teaching hives and swarm buckets, bee-friendly plants, local award-winning honey tastings from Bush Haven Farm and even bees and wasps on sticks!!
We then had our popular Introduction to Beekeeping Course with many keen new beekeepers eager to learn even though they might not yet have any bees. Sessions included smoker lighting (and keeping it lit), to frame diagnosis, wax moth damage and much more.
In between all of this, our monthly club meeting had many young (and slightly older) members at the club apiary for a pleasant afternoon learning about queen setups (NUCs with cells versus mated queens).
Many thanks to the club members who gave their time to help educate our members & the public.
Pauline RHBC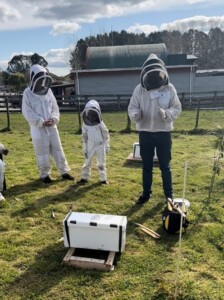 Gisborne beekeepers John McLean, Steve Jackson, John Mackay and Barry Foster visited schools in their local area. They gave a talk on bees with a teaching hive, viewing box and lots of yummy honey.